Olga Teksheva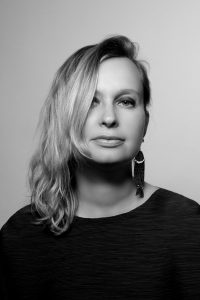 The earliest memories of Olga Teksheva (b. 1973 in Moscow, Russia) are about drawing and about books on art history of her mother's library. The paintings of Giorgione, of Titian, of Botticelli took her to a fairy-tale world which, as her mother explained, was called "Italy". So, from the age of 4, a journey to Italy and a life of art become her biggest dreams.
In 1996 Olga graduates with MA in Art History at Lomonosov University of Moscow. For many years she would work as fashion journalist and tutor of Fashion History, Costume History and Art History. At the same time she is writing her PhD in art history and taking a course of Drawing and Painting at the private studio of Liudmila Ermolaeva, an important artist in Moscow artistic circles.
In 2007 she travels to Rome for the first time, and the beauty of the Eternal City makes true her childhood dreams about Italy. The happiness and the inspiration of that journey have changed her life. In 2008 she moves to Rome to study Fashion and Costume Design and takes a course in Haute Couture Embroidery.
While she studies, she realizes that being anchored to the wearability necessities, even in Haute Couture gowns, is far too limiting to all those surface design experiments she would like to try out. After 20 years of working in fashion she distances herself from that field and begins to create samples for artistic, experimental fabrics. At the beginning of 2015 those samples grow so large that become true mixed-media pieces, first on canvas and then also on paper.
A work of art, an art object, an art gesture, be it an installation or performance… This artist sees any art form as a strong presence in space and a strong presence in mind of who is interacting with it. Something that parts from a very attentive observation and study of the real world but takes us on a imaginary journey that changes the way we perceive the world and ourselves, that makes us feel the beauty of life and that makes us see ourselves as better human beings.
Olga creates art objects with precious, complicated, multi-layered surfaces. In one piece she mixes up acrylic painting, embroidery, draped distressed fabrics, 3D lace produced on water soluble base, and different found objects. The quality of lines and work with colours is very important, as that of the quality of production. Her attention to the artisanal aspects of every piece is something that comes to her art from the world of Haute Couture. The "Fast Art" is definitely not the sphere of her interest.
The research for every piece begins with sketches of natural objects and surfaces: the underwater world, the distressed leaves with their "skeletons" that resemble precious lace, the plants, the marks on the pebbles found at the beach by the artist's daughter. Even though Olga works in series, every piece becomes a non-repeatable experience, full of unique details and connected to personal stories and memories of the artist.
EXHIBITIONS
3 September 2021 – 4 November 2022 International Triennial TEXTILE ART OF TODAY (Slovak Republic, Hungary, Czech Republic, Poland). Nomination to Enviro Prize

11 – 19 September 2021 Finalist of the 18th International Textile Art Competition "Trame a Corte: Ecohope" (Parma, Italy). The artwork "Dragonfly: Birth of Shape" wins the competition as the First Prize

16 July – 5 September 2021 Contemporary art festival SyArt, curated by Rossella Savarese at Fondazione Sorrento (Sorrento, Italy)

2 April – 2 May 2021, De Rerum Natura, group show curated by Barbara Pavan e Manuela Caucino at 36Mazal (Ticino, Switzerland) 

7 – 21 November 2020 "REBELS", group show curated by Barbara Pavan at SCD Art and Textile gallery (Perugia, Italy)
24 September – 9 October 2020 "In Volo", solo show curated by Velia Littera at Pavart Roma gallery (Rome, Italy)
Novembre 2019 "First International Contemporary Stitched Art Show", by Society for Embroidered Work, Clerkenwell gallery (London, UK)
October 2020, "Homing" group show curated by Velia Littera at Pavart Roma gallery (Rome, Italy) as part of Rome Art Week 2019
31 May – 1 July 2019 "W&B = Harmony", group show at Pavart Roma gallery (Rome), curated by Velia Littera
22 March – 24 March 2019 Art Rooms Roma contemporary art fair, Special Mention project with Ford Italia
12 December 2018 – 20 January 2019 "Pavart Xmas Mood", group show at Pavart Roma gallery (Rome), curated by Velia Littera
23 – 27 October 2018 Two-artist show "Echoes of land and sea", at Counterweave Arts Gallery (Rome). Artists: Olga Teksheva and Felicity Griffin Clark. Curated by Velia Littera. The show was part of official programme of Rome Art Week 2018
29 November 2017 – 25 January 2018 "Flusso di linfa" group show, curated by Velia Littera, at Pavart Art Gallery (Rome)
20 – 30 June 2017 Solo show "Once Upon a Time There Was a Fish Sitting on a Tree", at Villino Corsini (Teatro Villa Pamphilj, Rome)
01 – 15 May 2015 Group Show at "Il Porcellino Blu" Cultural Association (via Arnaldo Ulivelli, 5/7, Rome)
25 – 27 May 2015 Solo show at Oleonauta's booth at "Solstizio d'estate" fair (Rome)
COLLABORATIONS
Fall 2016 Artistic textile panels for the collection of luxury accessories brand "BADURA by Aleksandra Badura" (Rome)
Fall 2015 Collection of wearable art scarves for "Urban Tales" boutique (via dei Fienaroli, 21A, Rome)
Fall 2013 Artistic textiles for interior design, collection for "Buro Tkanei" (Kuznetskii most, 19c1, Moscow)
Spring-summer 2012 embroideries for made-to-measure collection of "Cecilia Caramellino" atelier (Rome)
May 2010 partecipates in "Mani d'opera" project of French artist Pascal Gautrand at Accademia di Francia (Rome). The project was sponsored by Fendi.
FASHION AND TEACHING
2007 – 2014 fashion journalist for "Collezioni" (Russian language edition)
2000 – 2010 fashion journalist for "L'Officiel" (Russian language edition)
2000 – 2008 tutor of Fashion History course, Costume History course and Modern Art course at National Institute of Design (Moscow)
STUDIES
June 2011 – April 2012 haute couture embroidery course at Scuola di Ricamo Alta Moda (Rome)
2008 – 2012 BA diploma in Fashion and Costume Design at Accademia di costume e di moda (Rome)
 2000 – 2006 MA diploma in Drawing and Painting at Studio of Liudmila Ermolaeva (Moscow)
1990 – 1996 MA diploma in Art History at Lomonosov Moscow State University
---
Contact