Rocks. We Are Tender
"Rocks. We Are Tender" series is born in the end of 2020, as the artist's response to the stories of her family and friends that she has been listening to since the beginning of the pandemic. Those were the stories of fear, tiredness and despair, but also of hope and belief. Listening to the people that are so dear to her, the artist started seeing them as "human rocks" that are incredibly strong and resistant, but at the same time vulnerable, fragile, tender… Thus the title of this series, "Rocks. We Are Tender" was born.
Olga Teksheva starts working with the first pieces of the series with small graphic studies of the surface of the rock formations in different regions of Italy. The signs (lines, dots and cracks) on rocks become marks made with hand embroidery on textile collages over felt bases, characteristic of the wall sculptures of this series.
In the same period of developing the series, the artist reads lots of books on archaeology, by both Russian and Italian scientists. Studying the remote epochs of the human history helps her to reflect on the formation of human psychology, on our reactions to "space" and "closure", on the necessity of movement, on how we imagine the world to function and how our ancestors were imagining it.
So, nature and archaeology are two important sources of inspiration behind the "tender rocks" of this series.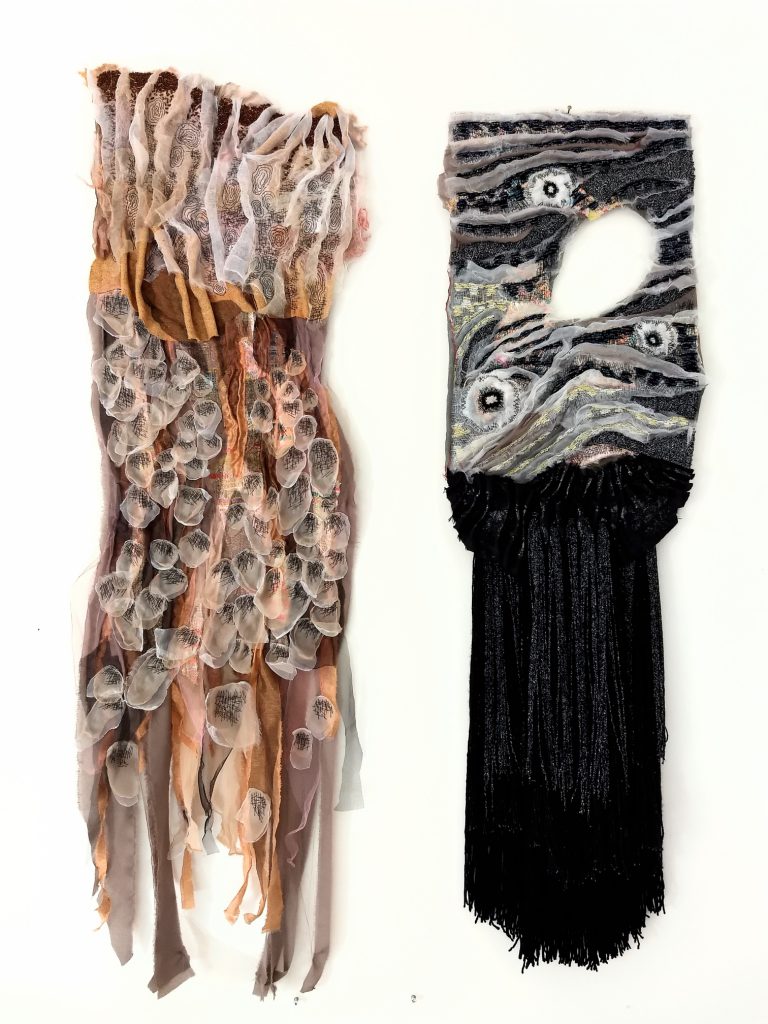 On the right:
2020
35 x 135 cm
Hand embroidery and beading on textile collage over felt base
2020
35 x 125 cm
Hand embroidery and beading on textile collage over felt base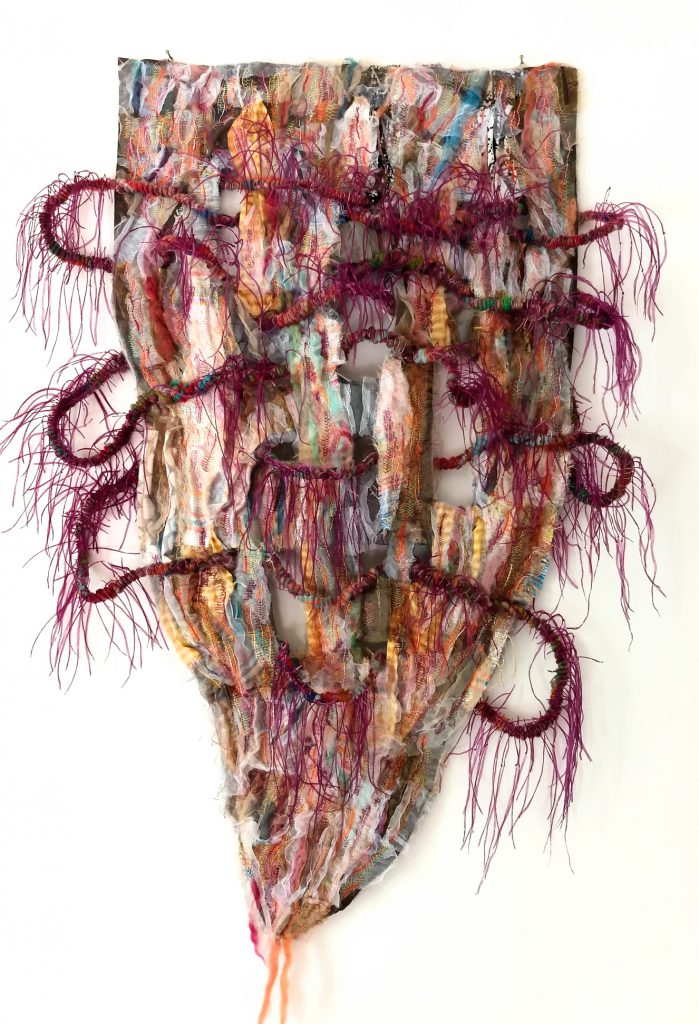 2021
80 / 110 x 135 cm
Hand embroidery on textile, fake leather and wool fibers collage over felt base, hand weaving with a wool rope embroidered with vintage marabou feathers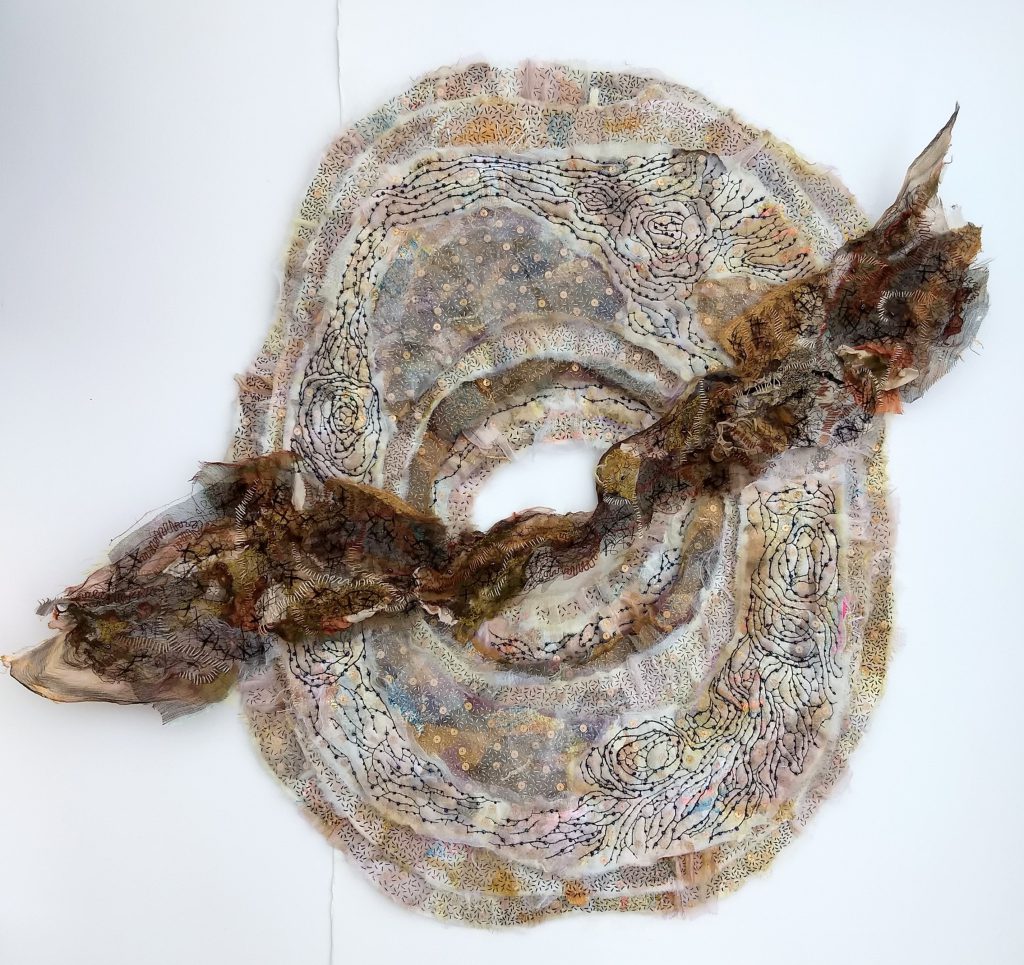 2021
61 / 83 x 77 cm
Hand embroidery and beading on collage of textiles and washi paper over felt base, metal wire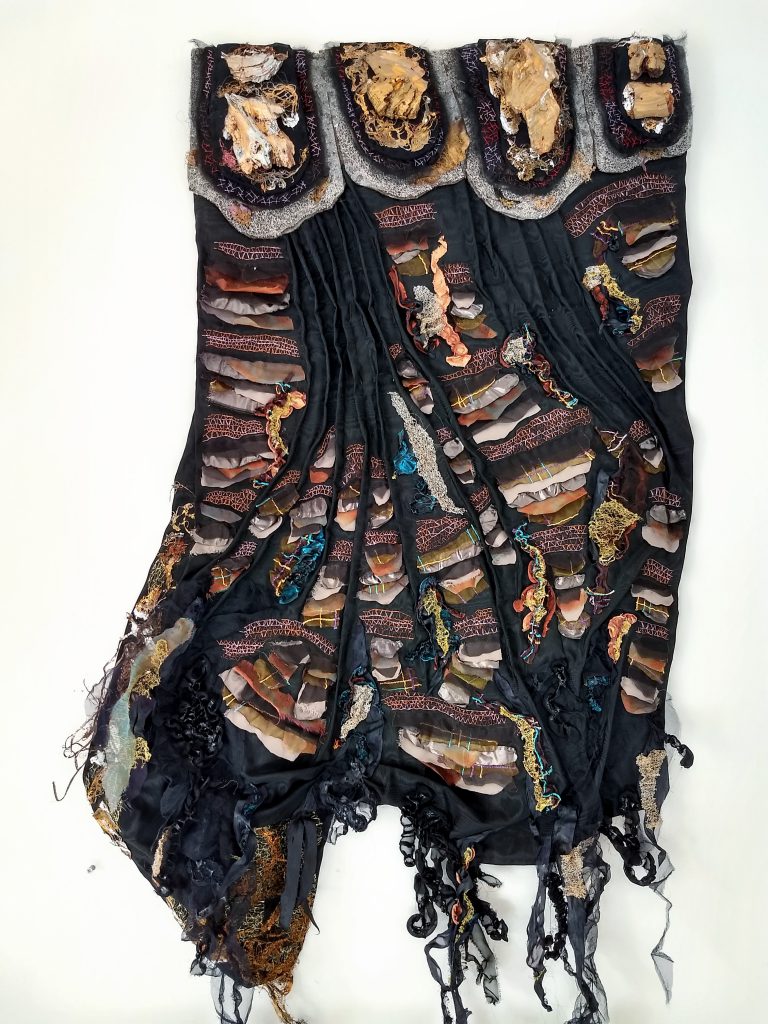 2021
63 / 78 x 122 / 140 x 10 cm
Hand embroidery on textile collage over felt base, metallic lace, recycled threads, found objects (fragments of wood), acrylic paint